SIMPLE VERSION OF BASICS OF CURLING FOR EVERYONE TEAM
TEAM
Every team is made out of 4 players which usually throw stones in following order: Lead (first), Second, Vice(-skip) (third), Skip (fourth).
END
A basic part of game (match) in which each member of the team throws two stones, alternately with member of opposite team playing the same position. (If you have experience with softball or baseball, remember Inning.) It means that 16 stones in total are thrown in every end – eight by each team.
SCORING (POINTS)
As soon as all 16 stones are thrown in one end, a score of this end is determined. Team receives one point per each stone which is standing fully or partly in the house, and also closer to the middle of house than any of the opponent´s stones. It means that only one team can score (receive points) in one end. The team which scores in the end throws first in following end.
GAME
A game (match) is made up of 8 ends. The team which scores more points in total is the winning team.
SWEEPING
Between tagret lines (tee line), any member of a team can sweep their own moving stones. The movement has to be vertical to the direction of stone´s movement. Only one member of the team can sweep only one of their stones behind further target line (tee line). It is forbidden to sweep any of the opponent´s stones between tee lines. After stone crosses further tee line, the opponent´s player standing in house can sweep the stone if needed. If a team "burns" (touches it by broom, foot or other part of body or clothes) their own stone, the stone is put out of play. If such stone touches other stones in playing positions before being put out of play, these stones are put to their positions prior to the touch by the opponent´s skip.
SHEET OF PLAY
A playing field (sheet) is a stripe of ice with its specific surface (pebble).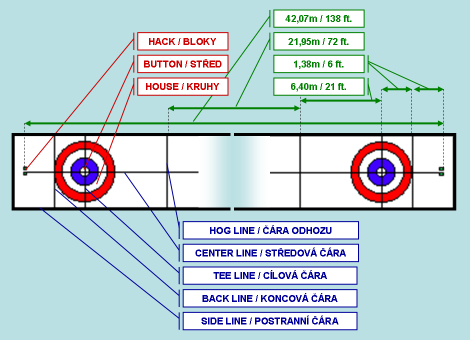 SOME BASIC CURLING TERMS
WEIGHT
Indication of power which is supposed to give a stone energy for reaching expected length of a throw. For example, "hack" weight is a power which sends stone to a distance of opposing blocks. "Tee" weight is a power which sends stone in a way to reach target line on opposing side.
LIGHT-HEAVY STONE
A stone is light when it has smaller speed than required (and so it doesn´t reach expected distance). On the contrary, stone is heavy when it has larger speed than required (and so it gets further than it was expected).
TAKEOUT
A stone thrown with enough weight to put other stone out of play if touched.
PEEL TAKEOUT
A stone meant to hit other stone on side and get both stones out of play (or as close of side line as possible).
DRAW
A stone which is thrown with such weight so it ends up in the house.
TAP UP (TAP BACK)
A stone similar to take-out, but its purpose is to move a hit stone only by few decimeters and keep it in playing position. A player can play a tap up on his own stone and move it to the house or closer to tee line (also called raise) or move opponent´s stone further to back house.
GUARD
A stone stopping in front of the house which covers sooner thrown draw.
FREEZE
A stone which comes to other stone and touches but doesn´t move the stone.
HAMMER
The last sixteenth stone thrown in one end.
STEAL (end or point)
Scoring one or more points in the end where opponent has the hammer.
FREE GUARD ZONE
A rule restricting moving opponent´s stones out of play in the beginning of each end. If any of opponent´s lead stones is moved out of play, the stone is put back to position prior to the hit and throwing team´s stone is moved out of play. The free guard zone rule is over after throwing first four stones in each end
FRONT END / BACK END
FRONT END/BACK END
Front end = first two positions of the team (lead and second). Back end = vice-skip and skip.
Save
Save
Save
Save